Someone's Been Here Before
Wherever you pitch your tent or beach your kayak in the Apostle Islands, someone's been there before.
Basswood Island: The Apostles' Emerald Isle
Searching for- and finding- the islands' Irish heritage.
The Day The Ships Went Down
Two ships, twelve lives... lost on the Apostle Islands' deadliest day.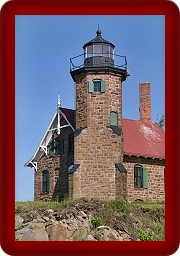 Ghosts of the Apostle Islands
Seeking traces of those who have gone before.
Big Ole: Xtreme Boatman of the Apostle Islands
Paul Bunyan wasn't the only larger-than-life character in the north country... but Big Ole was real.
Sad Christmas On Basswood Island
On Christmas Eve, 1893, a young mother lost her life in a blizzard on the ice of Lake Superior.
Early History of Washburn's Memorial Park
Historic Site Designation : the story of a community treasure.