Mile-Long Tug Of War
Sunny days and mild temperatures this weekend, so we spent a lot of time out and about with the dogs.
One of our favorite things to do this time of year is just to get out on the ice of Lake Superior and walk: you can see things and get to places that otherwise require a boat.
We took Nelson and Mary out for a nice, hour-or-so walk yesterday afternoon. The ice is well more than a foot thick... there were cars and trucks zooming by, so I was not worried about two humans and two Newfies. On the way back, we spotted a woman in the distance, walking toward us with a big black dog. When we got closer, we realized that the dog was our grandpuppy Sophie: one of Abbie's pups who went to live with a lady right down the road. A very pleasant impromptu reunion ensued to cap off a lovely walk- dogs running around on the ice, chasing each other, checking out scents along the shoreline, and just having fun. Mary played along enthusiastically, and slept like a log when she got home.
Since things went so well yesterday, we decided to repeat the exercise today with the same crew, but heading in a different direction and going farther. All was fine on the outbound trip, and we were able to check out some really cool rock formations along the shore.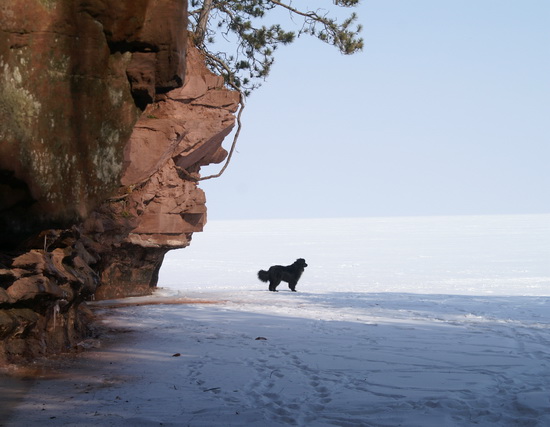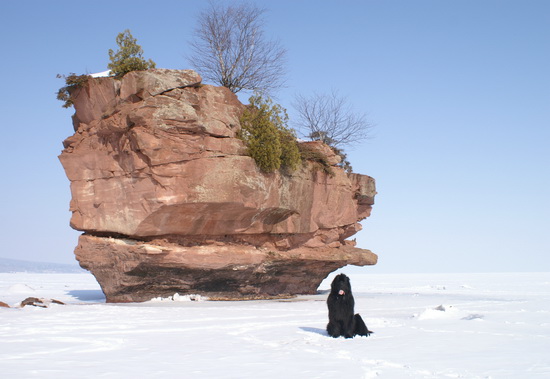 When we turned to head for home, though, Mary suddenly entered one of her bad spells, and all she wanted to do was turn circles in place. She grasped her leash in her mouth as tightly as could be, planted her feet, and refused to walk with us. If she couldn't stay where she was and spin, she wasn't going anywhere. We did our best to to coax her, but when she gets like this, she's not listening, and treats mean nothing, so it was pretty much a matter of dragging her all the way back to the dock.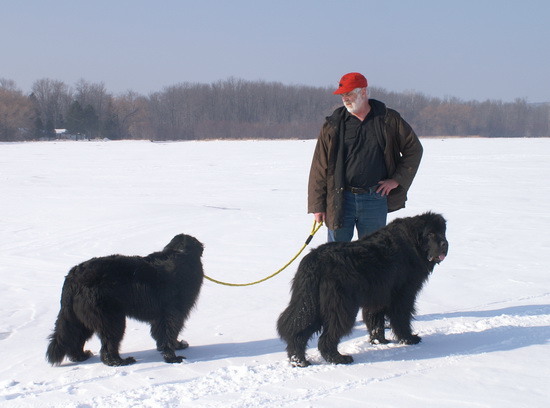 The process was obviously exhausting for poor Mary; by the time we got back, you could see her jaw muscles trembling from the fatigue of pulling at the leash. I was none too fresh myself by the time it was over; it was walk 50 feet, stop, let her spin a few times, calm her down and coax her along a bit, pull gently but firmly when she started digging in, then start the cycle again. A mile of that will wear you down!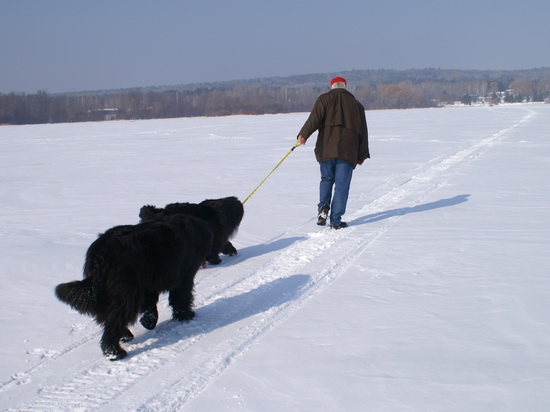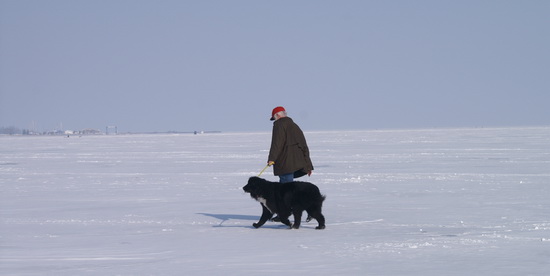 Well, look on the bright side. Our walks were mostly successful, and a lot of fun except the last part. And Mary's sleeping soundly now; hope the little girl enjoyed the first part of today's walk, at least.
Next: Nelson Saves The Baby