"The Most Stupendous Of God's Works"
Part Two
In describing her life at LaPointe, Florantha's letters show her transformation from genteel town-dweller to resilient frontierswoman. She explored the hills and ravines of the island, learning the best places to gather wild berries and other edible plants. Even a ride on a runaway dog sled did not faze her:
We have two large dogs, the fleetest and strongest of any in the place. One morning the last of winter Mr. Hall said he was going to the Fort, and if I wished to have a ride I might go with him. I gladly accepted and got into the little carriage made for the purpose.

Before Mr. Hall could get in the dogs set off at their greatest speed, delighted with the fun. Mr. Hall made greatest effort to overtake me, but he might as well have tried to overtake a wild deer in the forest, and I was hurried at greatest speed over the plain and through the forest. Not feeling any danger I was pleased with my ride, excited with laughter, while those that we passed looked on in astonishment.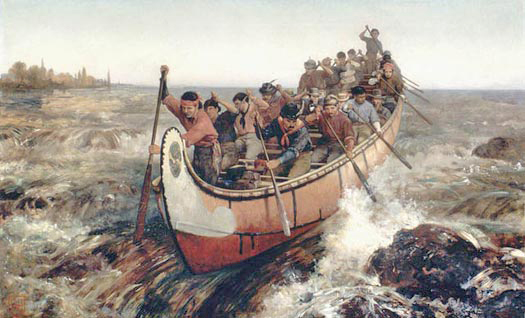 The most memorable adventure of Florantha's time by Lake Superior was undoubtedly the boat trip to the head of the lake. In the spring of her fourth year at LaPointe, the chief agent of the fur post had business to transact at Fond du Lac on the St. Louis River, and invited the mission families along for the trip. Florantha's description of the journey, set down in letters, provides a vivid record of the rigors of travel in that era.
The group of eight boatmen and ten passengers set out early on a Monday morning. Progress was slow, but steady. "It appears to be hard work for the men to row the boat," she noted. "They row for two hours and then rest."
Toward the end of the first day, the party passed the great wall of cliffs and caves. The magnificence of the scenery, Florantha recalled, evoked reverence even among the uneducated voyageurs: "One of the boatmen, who knew not a letter, said, 'It is certain the builder of this knew what He was about.'"
With light fading, it was soon time to halt and set up camp. Finding a good spot was difficult, but the voyageurs were up to the challenge. "The boatmen could not get near enough to shore to make a landing, so they had to take off their moccasins and socks and carry us, going almost leg deep in the water."
The party arose the next dawn, and set off without delay, postponing breakfast for several hours. The lake was calm at first, but wind and waves increased through the afternoon, making some of the passengers seasick- Florantha does not say if she was among them- and finally forcing an early end to the day's voyage. Perhaps in compensation, they rose the next morning at 2:00 am to begin their third day of travel in the dark, finally reaching the mouth of the St. Louis River that afternoon. The rowed upstream some fifteen miles, then made camp for one more night.
The next morning, Florantha arose before the rest of the party, cleaned some ducks they'd acquired the day before, and made breakfast for her companions. Then, in preparation for meeting their colleagues, the men and women decided to freshen up:
Dr. B. and his band took off coats and vests and prepared for shaving. Husband had brought a little glass which he hung on a bush and with a long sober face prepared to remove his beard. At the same time Dr. B. scrubbing himself near by, Mrs. Borup washing and combing, and changing her frock, at the same time every bush hanging with different articles of apparel, the birds singing delightfully above our heads, careless of confusion beneath. I looked on and a wish arose as I had often had before, that you could see us just as we were.
After a brief, two-day visit, the travelers turned homeward for LaPointe, but foul weather forced them to seek refuge in an abandoned log cabin near the site of present Superior. They were stormbound two days, but their spirits remained high:
We ... made a large fire in one room, set up a little stove that we had brought with us in another, spread an oilcloth on the floor, put up some timbers by the wall for a settee, -- and then we all exclaimed from our sincere hearts, "How thankful we are for so comfortable a place." We spent our time in talking, laughing, singing, and reading, and in eating sturgeon, deer steak, ducks, and pork. Dr. Borup would say to me, "I wish your folks could see you as you are now, in all your dirt," and I answered, "It would be a novel sight to them."
Rough seas and foul weather continued, making the return voyage wearisome. Finally, on the eleventh day of their journey, the tired travelers landed at LaPointe. "Glad were we all," Florantha wrote, "to greet that friendly shore!"
When the Protestant mission at LaPointe closed in 1845, the Sproats returned to Massachusetts for a few years. Wanderlust struck Granville Sproat again in 1854; this time it was California that beckoned. Westward he went to preach at booming San Francisco; several months later, Florantha followed with their two daughters. They boarded ship at Boston in October for a voyage that would take them round the tip of South America, finally arriving at San Francisco after nearly seven months at sea.
Something shocking happened in California, though: Granville Sproat deserted his wife and children, eventually joining the celibate Shaker sect. Resourceful Florantha coped by opening a boarding house. In 1859, one of her guests, an explorer and entrepreneur named James Hutchings, courted Florantha's teenaged daughter, Elvira. They married the following year, and when city life began to pall, the entire family - Mom and all- moved to a wild valley with a name that would become renowned: Yosemite.
Hutchings opened a hotel to accommodate the first hardy tourists who made the trek to see the fabled valley; mother-in-law Florantha took charge of the kitchen. Before long, daughter Elvira became close- some said too close- to one of her husband's employees: a thoughtful Scottish immigrant who would gain fame as a naturalist. His name? John Muir.
When James and Elvira's marriage dissolved, Florantha elected to stay in Yosemite with her son-in-law and grandchildren. She enjoyed hiking in the mountains, becoming at age sixty-five one of the first whites, male or female, to set foot on Half Dome. One wonders: as she gazed out at the cliffs and waterfalls of the Sierra Nevada, did Florantha Thompson Sproat think back to the rocky shores of Lake Superior?