Chapter Four
"Adult Female Available"
It all began back in September.
"This one sounds interesting," Susan announced. ''Adult female available to an approved home."
"I called the place up. They're in Ohio, about an hour from Cleveland."
We were looking for a dog that summer, but not just any dog.
We were looking for a Newfoundland who needed a home.
We've been Newf owners for more than 30 years, sharing our lives with a succession of big, sweet, goofy, wonderful dogs. For most of that time, we've been a two-dog household, as well: one Newfoundland, and one smaller dog.
It wasn't always easy: my wife and I are both park rangers, and our jobs required us to live in some challenging situations. We'd managed, though; our dogs had shared a small cabin in the Sierra Nevada, lived at an isolated island outpost, romped in Wisconsin's north woods and on the beaches of Cape Cod.
Now, though, we'd sunk roots. We had a place of our own, with a big yard. I was looking at retiring soon. We'd have room, and we'd have time, to indulge ourselves with two Newfies.
But rather than going to a breeder and picking out a puppy, we decided that we'd look around to see if there were any Newfies in need of rescue.
It had been a few months since we lost Lizzie, the little mutt who'd walked up our driveway on a rainy evening in 1989, cold, hungry, and lost. The time seemed right to begin looking for her successor.
One thing for sure, we had decided as much fun as it is to raise a puppy, we don't want to add to population pressure by insisting on a puppy for ourselves this time. Looking for an adult dog who needed a home just seemed the right thing to do.
We tried making contact with the Newfoundland Club rescue program, but that did not pan out. Sue began volunteering at the local humane society, keeping her ears open for any word of a Newf in need.
Nothing doing. We were glad to find out that homelessness among Newfoundlands did not seem to be a problem anywhere in our area, but we still had hopes of providing a good home to a deserving Newfie.
So we widened our search, and went online. On September 7, my wife made a discovery: the web page for a kennel in northern Ohio, named "Lighthouse Newfoundlands." We picked up the phone to learn more.
The dog's name was Abbie, and she was two years old. Her coloring was black and white, the style Newf people call "Landseer."
That would be a switch for us, I thought. All of our previous Newfies- Triton, Pilot, Nelson- had been black.
Why was she up for sale? we asked.
She's healthy, but her hips are only "fair," said the breeder, a chatty woman named Lisa. Abbie would be fine for a pet, she said, but not for breeding. Moreover, Lisa added, her husband had been disabled in an accident, and she needed to reduce the number of dogs in her kennel. There was just too much work for one person to handle.
We thought things over for several days. A young adult female was just what we wanted, and we certainly weren't planning on breeding her. As far as the hip situation, we had plenty of experience with Newfies and their orthopedic problems, and figured we'd be as well equipped as anyone to look after her needs.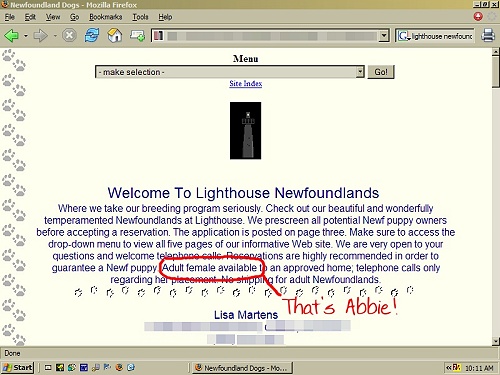 "Adult female available" - that's Abbie!

But what about this kennel? We could not find any information one way or the other about the place. Still, the elaborate web page made it seem like a well-established outfit, and included many reassuring notes:
"We take our breeding program seriously. ... We prescreen all potential Newf puppy owners before accepting a reservation."
The screening form asked all the right questions, then closed with a signature line below the promise,
"I understand and believe that owning a Newfoundland is a commitment for the lifetime of the dog."
Just the kind of attitude you want to see in a breeder. And the owner seemed personable and sincere over the phone. Over the next few days, we exchanged several e-mails and phone calls to firm up the details.
I'd take a week's vacation, and we'd make a leisurely trip to Ohio. It would be fun: we'd spend a week working our way south through Michigan, exploring the coastline and visiting historic sites, then pick Abbie up for the two-day drive to her new home.
I sent off a deposit, along with a letter proposing to pick Abbie up on the morning of October 15. A phone call several days later confirmed the arrangements. It was only then that Lisa explained that Abbie was not on her premises at the moment, but was staying at a place called "Forest View Farms," a kennel belonging to her business associate- a woman named Sandi. She'd pick the dog up and have her ready for us when we arrived, though.
Everything was set, it seemed. In just a matter of weeks we'd add Abbie to our family.
Next: Maybe We Rescued A Newf After All
---
Copyright Bob Mackreth, 2008-2013