Oak Island Inferno, 1943
Part Two
At one in the afternoon on Wednesday, October 6, 1943, Kane took a break from mending nets to fix himself midday dinner. There was a brisk wind from the west as he filled his stove with dry bark to get a fire burning quickly. After enjoying his meal, he washed up and stepped outside to dispose of the dishwater. Upon doing so, he noted fire burning in the clearing around his cabin and spreading into the woods, and immediately set to work to contain it.
Some time around 5:00, a Coast Guard boat passing on the way to the Devils Island lighthouse hailed him and asked if he needed help. Kane later reported that he told them that he thought he could save his buildings but did not know if he could keep the fire from spreading into the woods; the Coast Guardsmen claimed they heard him say that he could handle the fire by himself. Whatever the truth, the boat pulled away. It took another full day for help to arrive, and by that time the fire had grown to some 300 acres.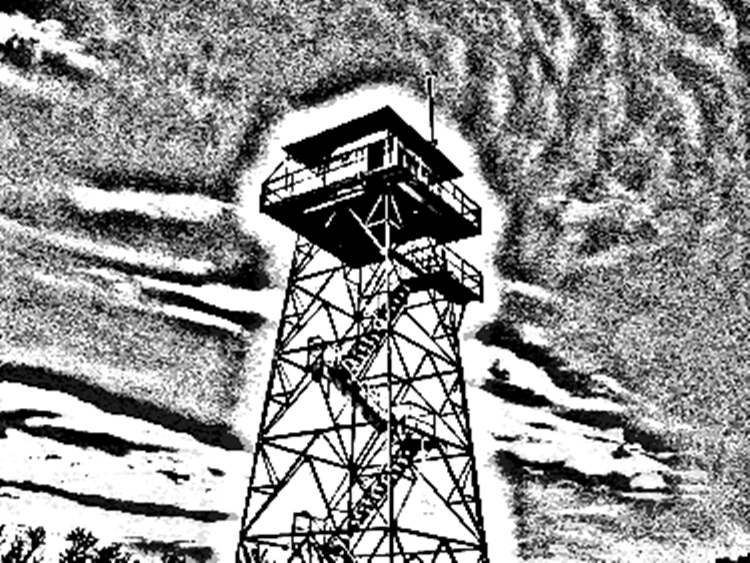 Logistical difficulties, manpower shortages, and human error combined to delay response. The lookout in the Bayfield fire tower saw the smoke in late afternoon and reported it to his superiors, but dismissed its importance-- "It's probably just Martin's cooking fire." They responded by ordering him out of the tower to help fight a fire near Ashland, so it took until the next morning for the gravity of the situation to become clear. Then came problems assembling a crew- pickings were slim with so many men off in military service, and workers had to be called in from as far away as Mellen and Park Falls . Worst of all was getting personnel and equipment to Oak Island-- the boat trip from Bayfield was time-consuming under good conditions, and the weather was deteriorating.
Finally, a contingent of about 50 firefighters arrived at 6:00 pm Thursday on the chartered ferry Gar-How. Even getting them ashore was a problem: the derelict lumber camp docks were barely usable. The crew started right in, clearing brush and burning out a "black line" in hopes of stopping the fire's advance. They kept at it until 4:00 am the next morning; then after four hours of cold, fitful sleep, they went back to the fireline, working straight through until nine Friday night. Then the men collapsed, exhausted, to sleep on the floor in the old loggers' shacks.
Despite all efforts, the fire continued to spread across the island's rugged terrain, and it became clear that more manpower and equipment would be needed. On Saturday, October 9, District Ranger John Borkenhagen brought a tractor and plow from his base in Park Falls and rounded up another sixteen men from Odanah and twenty from Bayfield. A new problem faced him: getting out to Oak Island began to look impossible. Winds increased that day, with gusts reaching 40 miles an hour. Lake Superior was rolling violently and it was hard to find a boat captain willing to take the men and their equipment.