Chapter Thirteen
Forever Homes
"I don't suppose we can keep all nine," I mused.
"We've gone over that," my wife replied.
Rolling around on the puppy room floor with furry bundles of curiosity climbing all over me, I thought back to a story I once read about a magic watch that had the power to stop time. Just twist the stem, the tale went, and you could live in that moment forever. From what I recalled, the fellow in the story never got around to seizing his moment; he was always waiting for something better.
I'd have no such trouble if I had a watch like that, I thought. I'd crank that stem hard, right now. Nine healthy, happy pups to play with me for eternity- what could be more fun?
But all along we knew that a time would come when most of them went off to new homes. Making sure that they were the right homes was the most daunting responsibility we faced.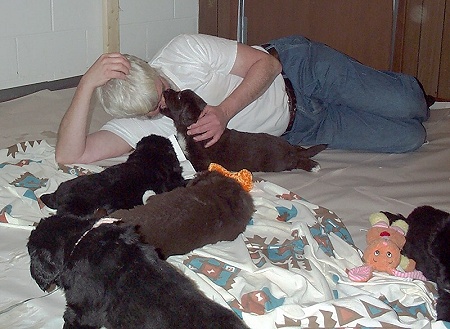 The phone rang.
Hello? Yes, this is Bob.
Oh, you saw the article? Yes, that's us all right.
Well, thank you. We're doing the best we can.
What? Oh, thanks, but we're doing okay. If you want to make a donation, we're asking that you send it to the Chequamegon Humane Association. They're a very good outfit, and they really need the help.
Oh... oh, my. You'd like one of the puppies? Well, there have been a lot of phone calls since that article came out. What we're doing right now is collecting names so we can get back to you...
We got more than forty calls within a week. Everyone assured us that they had all the right qualifications to give the puppies a perfect home. People described the great big farms where they lived- with pond, of course; told poignant stories about the beloved Newfies of their childhoods; or described the handicapped little boy who desperately needed Newf companionship.
How to choose? All we wanted was to make sure the puppies went to loving homes that were equipped to care for them properly, but never having done this before, making the selection was daunting. A few candidates were easy to toss aside- the guy who wanted to surprise his girlfriend with a puppy, for one- but so many others seemed reasonable and sincere.
It was hard. One acquaintance- a friendly shopkeeper we saw nearly every week- was desperate for a puppy, and brought her two delightful little boys over to see the litter. She seemed like a lovely person and a good fit, but when we called the veterinarian whose name she gave as a reference, a whispered answer came back: "I wouldn't give her a puppy."
"Why?" I asked.
"I can't say too much, but I would not give her one of my puppies."
Cryptic, but damning.
And when I told the woman there wouldn't be a puppy for her, she cried.
Our salvation came by way of the Newfoundland Club of America rescue program. Two days before the puppies arrived, we'd managed to make contact with the regional rescue coordinator, who offered to help us find suitable homes for the pups. She'd screen the candidates to make sure they met her rigorous standards, then we'd make the final selection from the families she referred to us.
Finally, the sad day came to say goodbye to the first of the pups. The adorable Katy was the first to leave. I hated to see her go, but there was a great consolation: she really wouldn't be leaving our life completely after all.
Back in the early weeks when Abbie had too many puppies and too little milk, we needed all the help we could get with the round-the-clock bottle feeding. Among the volunteers who came by regularly were one of Susan's coworkers and and her eleven-year-old son.
Partly they were doing this because they're just nice folks, but there was also another reason. They were pretty sure they wanted one of the puppies, and we were pretty sure they would make a great forever home for one of our babies. What better way to test these hypotheses than by sharing several weeks of feeding, playing with puppies, cleaning poo, and all the rest?
Sure enough, the intensive scrutiny confirmed our hunches. As time to make decisions approached, the grownups conferred and agreed: one of the pups would be going home with this family. The question was, which one?
Here's where I'll confess, now that time has passed, to being a little devious. Though we had already committed ourselves to keeping Ernestine and Mary, there was one other little girl who had me wrapped around her forepaw. The puppy with the pink yarn collar- the one we were calling Katy- was the sweetest, most affectionate little darling you could ever imagine. There was something about her that just radiated joy, and spread happiness to all who met her. The thought of sending her away broke my heart.
But then I started thinking- maybe she doesn't have to go too far! Whenever these people came over, I made a point of steering her their way. "I think Katy really likes you, Austin," I'd tell the young man loud enough so everyone could hear. Eventually I let the other grownups in on my scheming. Thinking with their heads rather than their hearts- quite unlike me- they agreed that Katy would be a perfect fit for this household. By this point, Austin was as taken with the little girl as I was, and he was ecstatic when his mother told him, in our beaming presence, that Katy would be his.
So when the day came to send this little sweetheart off with her new family, the pangs were not as severe as they might have been: she was only moving a few miles up the road. Katy- who now goes by the name of Ellie- has thrived in her new home, and every visit brings me new tales of the joy she adds to their lives. Her eager greetings suggest that she still recognizes me, too, and I have been known to make an utter fool of myself on chance encounters: a grown man and a big dog, rolling in the grass along Main Street to the amusement of passers-by.
Another puppy who would not travel far was the original Eleanor, whose name became Sophie. (Are you still with me on the names?) Sophie stayed right here in our town, and we see her frequently, at the park or supermarket, or walking down the main street with her humans. We even get to dogsit her, too, now and then.
Feisty Bonnie was a challenge to place. She had a mind of her own, always getting into trouble, and finding ways to sneak out of the enclosed yard to go exploring. Trained properly, she'd be a wonder dog, but it would take firmness and patience. "This is not a dog for novices," we agreed. "She has to go to someone who knows Newfies." The perfect match came in a family way off in Iowa, with two Newfs in their home already and a river for swimming right outside the door. Bonnie became their beloved Sawyer, well-known in online Newfie circles for her adventures and her flamboyant, "floofy" coiffure.
Something special happened when we placed Jack with a family who lived several hours away. We found we had a lot in common with the mom and dad- we shared interests, grew up in the same corner of the world, and three out of the four of us even attended the same college. What were the chances? Their little boy and girl were charming, and- we were soon to learn- in need of some grandparent figures in their lives. Before too long, Sue and I found ourselves happily filling that role, and we get together several times a year now, and receive regular updates on piano recitals and karate tournaments.
The others? Every single puppy went to a good, caring home. We still miss them, but we get pictures, we get letters, we get e-mails. Most importantly, they are well-loved and well cared-for, and that's what matters.
Next: Something About Mary, Indeed!
---
Copyright Bob Mackreth, 2008-2013