"The Most Stupendous Of God's Works"
A Voyage Along The Lake Superior Shore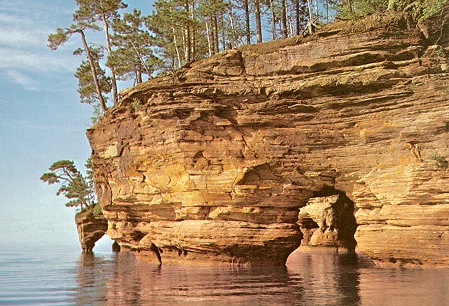 On an April afternoon in 1842, a small wooden boat glided along the sandstone cliffs that rim Lake Superior just west of the Apostle Islands, en route from the fur trading post of LaPointe, on Madeline Island, to an isolated mission at Fond du Lac, near the site of modern Duluth.
There were eighteen aboard the boat, including several women and children. French-Canadian voyageurs and Ojibwe men from LaPointe manned the oars; the passengers were missionary families. Among the ladies was a genteel New Englander, fond of pretty frocks and nice china. In a letter to her family back east, Florantha Thompson Sproat set down one of the earliest accounts of the cliffs and caves that astound modern visitors who paddle among them in summer, or trek to them on winter ice:
At about 5 in the evening we passed some of the most stupendous of God's works - an arched rock extending some ways into the lake, supported by pillars perfect and beautiful, bearing on its summit trees of every size and of many kinds, evergreens entwining their roots in every crevice, mosses growing of every color - the whole enchantingly sublime.

We sailed our large bateau between the pillars and beneath the rock and forest above. After passing this we came to that which was still more grand - a large mass of rock with forest above supported by innumerable pillars, extending as far as the eye could reach, the water dashing among them, sounding like deep and heavy thunder - the whole certainly aweing.

The shores of the lake for miles showed something of like scenery, caverns worn by the water, pillars supporting the rocks, and at times the rocks assuming the form of mighty buildings.
Before her long life ended, Florantha Sproat would undertake even more daunting voyages and see many more of the world's wonders.
Florantha Thompson was born in 1811, at Middleboro, Massachusetts, daughter of a professional portrait painter. In 1838, she married Granville Sproat, a young missionary who had already spent a year at a frontier town named Chicago, where he opened the settlement's first public school. In lieu of a honeymoon, the couple set off for Lake Superior, where Granville would take a post at the Protestant mission on Madeline Island.
The fur trade era had all but ended by this time, but LaPointe remained the most important settlement in the western Lake Superior country. Madeline Island's population of several hundred was overwhelmingly composed of native Ojibwe. The small white community was largely French-Canadian, save for a few fur traders, a handful of Protestant Yankee missionaries, and one Catholic priest lately arrived from Austria: Father Frederic Baraga, the renowned "Snowshoe Priest."
Life at the mission outpost was challenging, at first, for the refined young woman. It distressed Florantha that her tableware had not survived the westward journey unscathed. She complained, "Much of china was broken, but the thing I was most sorry for... (we) forgot to put in the full number of knives. There were only five, to six forks."
As time went on, though, she adapted to the rugged conditions, and the letters she wrote show pride in her achievements:
I am my own servant. I have no one to assist me... I scour my own knives, candlesticks and tin pans, which is no small job. I make my own butter. I have made soap and have had excellent luck.
Loneliness was harder to deal with, and the separation from her family. In a world of cell phones and instant messages, it is hard for us to imagine the isolation she faced. One letter to her parents begins matter-of-factly:
I have been thinking of home some today, one whole year since I have had news from you. Are you all living and in good health?
Florantha's uncertainty on such a crucial issue- "Are you all living?" - is understandable when she explains the effort it required to bring news to the frontier settlement:
One fact I would mention - that all letters that you receive from us, fall, winter or spring are carried by men 4 or 5 hundred miles through a thick and uninhabitable wilderness with snow 4 or 5 feet deep. They go thus far before they reach any sign of habitation. They then leave the mail and return with one for this place.
The answer, when it eventually came months later, was that all her family members were indeed still alive.